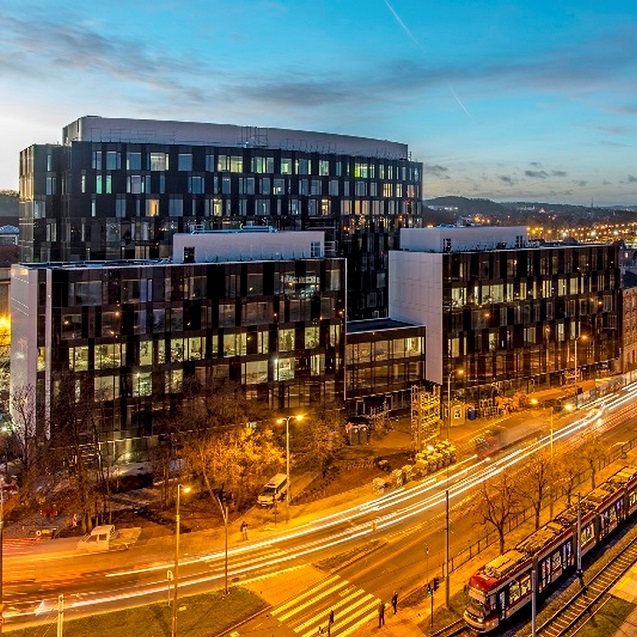 Echo Investment signed a preliminary agreement to sell to Echo Polska Properties its seven office buildings with almost 112,000 sqm of total gross leasing area (GLA). Total value of the properties as at the agreement amounts to almost 264 million euro.
The sold properties are: O3 Business Campus in Cracow (phase I, II and III), Tryton Business House in Gdańsk, A4 Business Park in Katowice (phase III) and Symetris Business Park in Łódź (phase I and II).
The transactions are a part of EPP executing its right of the first offer (ROFO) to purchase from Echo Investment 10 properties developed by Echo Investment. Buildings Tryton, O3 phase I, A4 Business Park III and Symetris I are ready; the completion of O3 phase II and Symetris II is planned for the end of the year, while the last from the sold buildings – O3 phase III – will be ready in 2017. Closure of the deal is conditional, on the satisfaction of certain conditions, including obtaining consent from Poland's anti-monopoly office, the President of UOKiK.
– We are expanding our platform by new properties that guarantee stable flow of revenue and, as a result, good returns for our shareholders – said Hadley Dean, CEO at EPP.
– This is another deal that demonstrates synergy resulting from Echo Investment and EPP partnership. All the buildings are well-located and well-designed and thanks to that they attract high interest from potential tenants – added Nicklas Lindberg, CEO at Echo Investment – I do hope this fruitful cooperation will continue.
O3 Business Campus is an office complex located in northern part of Cracow, at the junction of Opolska street and 29th November Avenue. The structure has been designed according to sustained construction principles – that's why is both environment- and users-friendly. The complex consists of three 12-story buildings with total GLA at 57,000 sqm as well as ground and underground parking lots.
Tryton Business House is an office building located in one of iconic location s in Gdańsk, at the junction of Jan z Kolna and Wałów Piastowskich streets, close to the city's historical canter. Tryton Business House consists of an 11-story tower and two 6-story buildings.
The idea behind A4 project was to create a complex that perfectly fits into an existing urban space. It consists of two 10-story buildings and one 7-story building. The attractiveness of the A4 Business Park is stressed by is location close to Katowice's main transportation routes.
Symetris Business Park is a modern office complex with total space of 19,000 sqm, consisting of two buildings connected with a joint parking lot. Their design is based on simple shapes relating both to modernist architecture of the pre-war period and the city's industrial past.