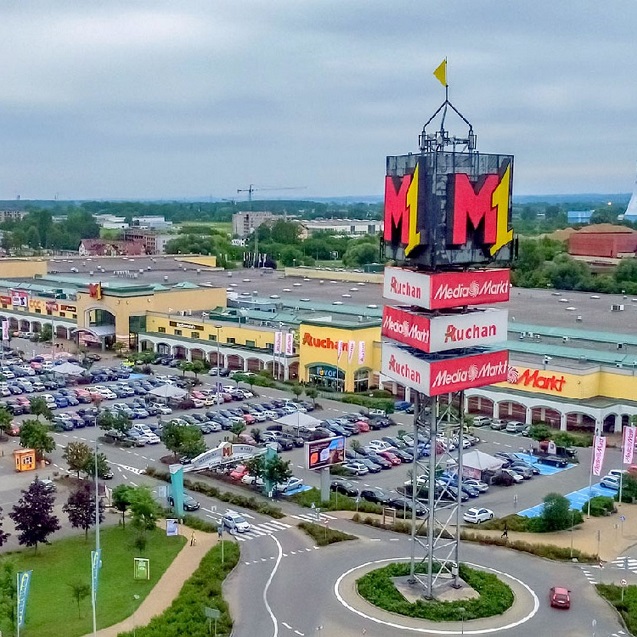 Today, EPP announced closing of the first tranche of the M1 portfolio, which is valued at €358.7 million and comprises of the following shopping centres namely M1 Czeladź, M1 Kraków, M1 Łódź and M1 Zabrze. The total GLA of the four centres is 194,400 m² and has an aggregate NOI of €25.1 million.
In December 2017, EPP announced the acquisition of 12 major shopping centres and retail parks (M1 portfolio) from Chariot Top Group B.V., a consortium where Redefine Properties owns 25%. The transaction aggregated value is €692 million. The acquisition has been divided into three tranches, the first of which has just been completed, and the remaining two will be finalized over the next three years.
All the 12 properties are single level and fully leased, grocery anchored and are situated on large motorway fronting sites which total over 195 hectares. All of the centres are anchored by Auchan Hypermarkets as well as a variety of international and domestic brands such as MediaMarkt, OBI and fashion retailers, TK Maxx, H&M and C&A with an average rent to sales ratio is below 9%.
The entire portfolio is subject to a master lease from Metro AG which expires in April 2024.
Following the completion of the whole deal, EPP will become the owner of eight M1 regional shopping centres with GLA ranging from 30,000 m² to 55,000 m² which attract more than 40 million annual visitors, and four retail power parks with GLA ranging from 20,000 m² to 35,000 m²
Tranche 1 was financed by way of debt, redeployment of the capital received on the sale of the offices previously announced and the subscription by an entity managed by Oaktree Capital Management L.P. and LVS II Luxembourg II S.à r.l for €112.5 million of EPP shares at €1.27 per share.
– Today we are delighted to announce the closing of tranche 1 of the M1 portfolio. The acquisition takes us a significant step closer to becoming one of the leading retail landlords in Poland. The deal also helps us provide further scale benefits for our tenants and further strengthens relationships with our financial partners – says Dean.
Hadley Dean concludes – The M1 portfolio has substantial expansion opportunities which fits perfectly with our current strategy. This will help us not only to increase the NOI, but also strengthen each property's competitive position. On completion of the transaction in mid-2020, EPP's portfolio will comprise at least 27 modern shopping centres comprising almost 1 million square metres GLA.