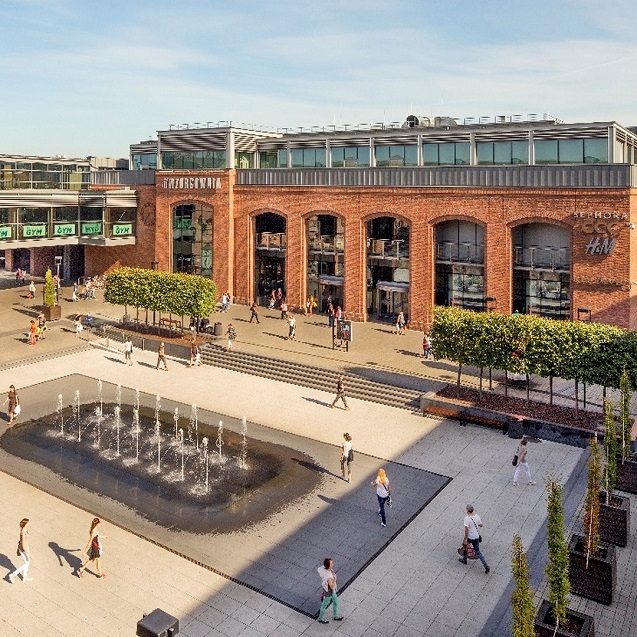 Warsaw, 29 June 2017 – Echo Polska Properties NV (EPP) today announced results for the three months ended 31 March 2017 ("the period") with distributable earnings 3,2% ahead of budget at €16,0 million. At period end the portfolio was valued at €1,5 billion with a portfolio of 10 retail and nine office properties and two Warsaw-based retail development sites.
CEO Hadley Dean says: "We are delighted with our Q1 performance which was in line with, or in some cases ahead of, expectations." Net asset value totalled €679 million with NAV per share at €1,16.
Footfall
in the retail portfolio increased 4.6% while sales were up 7.5% y-o-y. Vacancies across the portfolio reduced declining to 1.26% in the retail portfolio and to 3% in the office portfolio.
Dean explains that solid macroeconomic fundamentals in Poland as well as measures such as the new state child allowance are impacting positively on purchasing power and stimulating retail growth.
During the period EPP advanced its expansion strategy aimed at major underserved cities. "We are on track to become a pure retail property fund with an acquisition strategy focused on retail assets in strategic locations, enabling us to further leverage our portfolio and platform with retail tenants," says Dean.
The acquisitions included two development sites which pave the way for EPP's entry into the underserviced Warsaw retail market. One of these, Galeria Mlociny was concluded post-period end and is already 55% pre-let and on track for completion in Q2 2019. The 82 000m² development is located in a strategic transport hub in a large growing residential district, serving 40 000 people a day.
Other acquisitions included the €53.3 million purchase of the Zakopianka shopping centre in Kraków, A4 Business Park Phase III in Katowice; and the post-period end conclusion of the €141.60 million acquisition of Galeria Twierdza in Klodzko, Galeria Twierdza in Zamość and Galeria Wzorcownia in Wloclawek.
– We continued to unlock value in our existing portfolio with a number of extensions and enhancements – says Dean. The additional 15 150m² for Galaxy in Szczecin is expected to provide a €3.1 million increase in net operating income and is scheduled to open in November 2017 with pre-letting at 80% at the time of this release. The 3 800m² extension to Outlet Park Szczecin is scheduled for completion in September 2017 and will feature 118 stores and an uplift to net operating income of €708 000.
Looking ahead Dean remains positive noting that in addition to the opportunities for growth in distributions per share, there is scope for growth in the underlying net asset value – Our two Warsaw developments, the ROFO assets on which we have first right of refusal and the extensions within the existing portfolio all offer a favourable ratio of cost to anticipated valuation yield, while we also expect the growing Polish economy to result in further compression in commercial property yields, positively impacting EPP valuations.
Additionally post-period end EPP successfully raised €150 million of new equity in an oversubscribed capital raise.