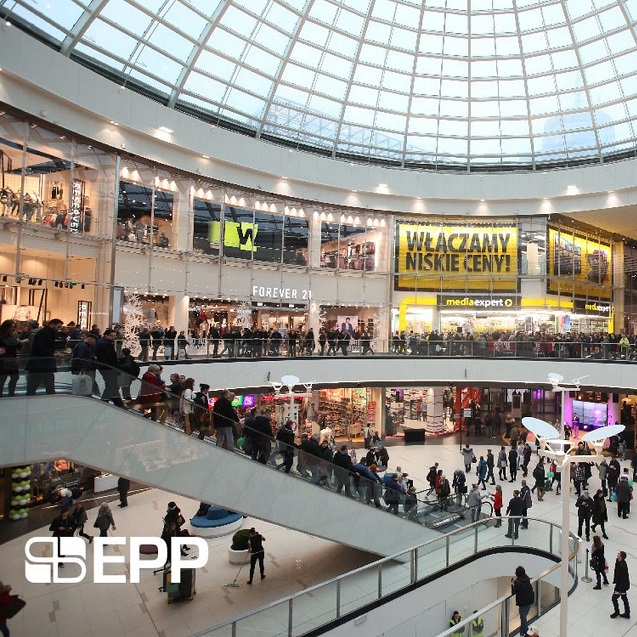 Almost five million inhabitants of Szczecin and its surroundings visited new Galaxy during first three months after its opening. The highest footfall was traditionally recorded in December – this month the mall was visited by close to 1,400 000 people, by 24% more than in December last year. November recorded the highest growth rate – by 30% as compared to 2016, while January closed with 16% footfall increase.
But not only customers appreciate Galaxy's more attractive version – the retail industry has also noticed and appreciate the change: last night Galaxy prized in Property Design Awards 2018.
The new, extended part of EPP-owned Galaxy was opened in the middle of last November. It accommodates 45 stores occupying in total 15,150 sqm GLA. Thus, Galaxy has become the largest shopping and entertainment center in the region, with the area of 56,600 sqm GLA and 199 stores, service points, islands, cafes, restaurants and an entertainment part.
– Our customers are very happy with the extension, and this impressive footfall is the best proof – says Marcin Ziółkowski, Asset Manager at EPP – Galaxy's customers appreciate both the widened offer as well as the new, elegant façade and wide, spacious shopping windows that meet the most contemporary design trends.
Galaxy's popularity also results from the fact that it contains brand which until recently had been absent in Szczecin, like long-awaited Forever 21, Aldo, Homla, Le Creuset, and the first in Poland concept store Tefal by Home&Cook. A list of new tenants includes Media Expert, Way to Beauty, Go Sport, Pepco, Sephora, Rossmann, Way to Beauty, Duka, Sony Center and Samsung Brand Store. After the break caused by the refurbishing, such popular brands, like Reserved, Mohito, House, Smyk and Deichmann have come back, while CCC store has moved to the new part occupying two-floor store with high, showy windows and an impressive area of 2,267 sqm thus becoming the largest store of its footwear brand in Poland. At +2 level the customers can enjoy already known food court as well as the new Calypso Fitness Club with an area of almost 1,600 sqm as well as nine-screen Multikino movie theater.   
Galaxy, owned by EPP, is located in the center of Szczecin and makes the key feature in the city's space. 
About Galaxy
Galaxy is a shopping and entertainment center and the largest retail investment in the Western Poland. Its 56,600 sqm of modern, retail space accommodates about 200 local, Polish and international brands. For many years, the customers have recognized Galaxy as the most popular shopping center. The customers can enjoy about 1,500 parking lots at a multi-story car park.