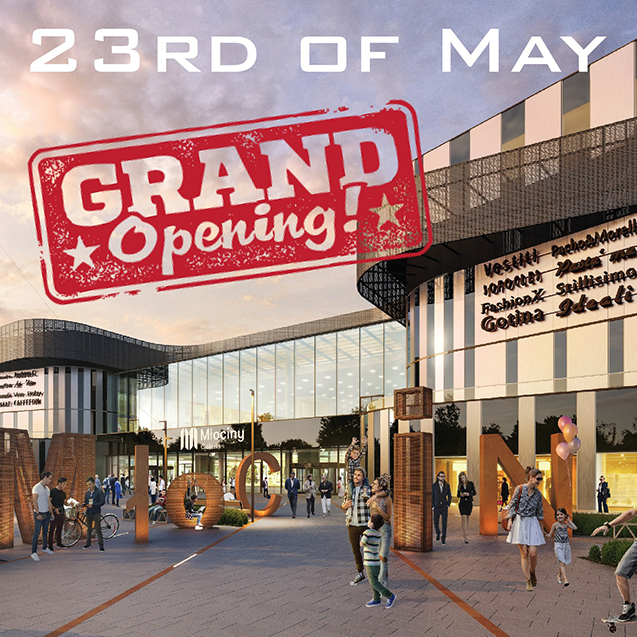 The hottest spot in Warsaw is set to open in less than a month. One of the biggest shopping and entertainment venues in Warsaw is now being finished in the capital city's Bielany district.
225 thousand m2 of total space, 82 thousand m2 of GLA with 76 thousand m2 allocated to retail and F&B, 6 thousand m2 of office space, over 200 shops and 36 restaurants, the tallest shopfront windows in Poland (over 7 m high), 10 screen multiplex cinema with comfortable, recliner seating, a 200 m2 stage/event area, 2.5 thousand m2 green terrace area, 2 thousand parking spaces, 20 coworking spaces –  these are some of the numbers which can be used to describe the Galeria Mlociny shopping center.
The design project of Galeria Młociny was created by two architectural studios – Kuryłowicz & Associates and Chapman Taylor. Galeria Młociny sets itself apart because of its innovative approach to designing a place with social, entertainment and F&B functionality.
Galeria Młociny is the first shopping centre combining modern fashion offering and a high quality "Hala Koszyki" style food hall. A key executive behind Warsaw's Hala Koszyki has created what's sure to be the city's new hotspot for foodies.  The restaurant and entertainment space – which occupies the entire second floor level and is connected with the roof garden – has been divided into various functional zones. Architects from the renowned Broadway Malyan studio recreated the atmosphere and ambiance of cozy pubs, street cuisine, dining out in the city, the experience of outdoor dining, and eating outside in green and leafy surroundings. This unique concept is the first of its type in Poland.
– We've gone to great effort to make sure Galeria Mlociny will be an outstanding addition to Warsaw's growing population. It is both beautiful and convenient and has a little something for everyone from families with children, to office workers and an unparalleled gastronomic offering. We are also very excited to bring the first multiplex cinema to the district – explains EPP's CEO Hadley Dean.
An attractive gastronomic area located on the 2nd floor and occupied by 36 restaurants, has been divided into several zones: Hutnik Hall – its industrial-themed design reflecting the proximity of the Warsaw Steelworks site, Dechy – dedicated to those seeking entertainment, and Carousel, created with children in mind. The designers of the location also created an open area full of greenery, offering a space for relaxation on the gallery's roof. This garden area, which is functionally connected to the other zones and contains over 1500 plants and trees, will allow guests to enjoy the panorama of the district. The entire area, with its dozens of restaurants, pubs and cafes, will close the F&B offering gap in the north-western part of Warsaw.
It is worth pointing out that the shopping center will host the first 3D cinema in Bielany with ten screens, and a double-floor fitness and bowling area. Galeria Mlociny will also boast over 6000 m2 of office space leased by the Inter Cars company.
– Galeria Młociny will be full of new exciting brands. For the first time in Poland, we'll see the opening of shops belonging to brands like Gagliardi, Sloggi and Mayoral. In addition to fashion brands, in the food hall area, gastronomic brands such as Sobremesa, Buenavista or Sushi Zushi will make their first appearance in a shopping center. We are waiting to announce a well-known tenant with a strong European brand to appear in Galeria Młociny, and this opening will undoubtedly act as an additional magnet attracting customers from all over the country to Mlociny. We are happy to invite you to opening on May 23! – says Nicklas Lindberg, CEO of Echo Investment.
The final leg
There are currently more than two thousand people in the construction teams currently working on the investment property. Its façade is fully ready and works related to the development of the shopping center's immediate vicinity are being finished. Tenants who have taken over their locations are in the last stages of preparations before the opening. The general contractor for the investment is Erbud.
The shopping center is being built in close proximity to the Młociny transport hub – one of the best transit locations in Warsaw, with direct access to the underground, numerous trams, city, local and national  bus lines, a bicycle station and a P&R car park. It's also the busiest transfer point for the northern part of the city and Warsaw's neighbouring towns, which is used by over 24 million passengers every year.
Galeria Młociny's investors include EPP (70% of shares) and Echo Investment (30% of shares). While the former will manage the newly opened complex, the latter was fully responsible for the development process and leasing.