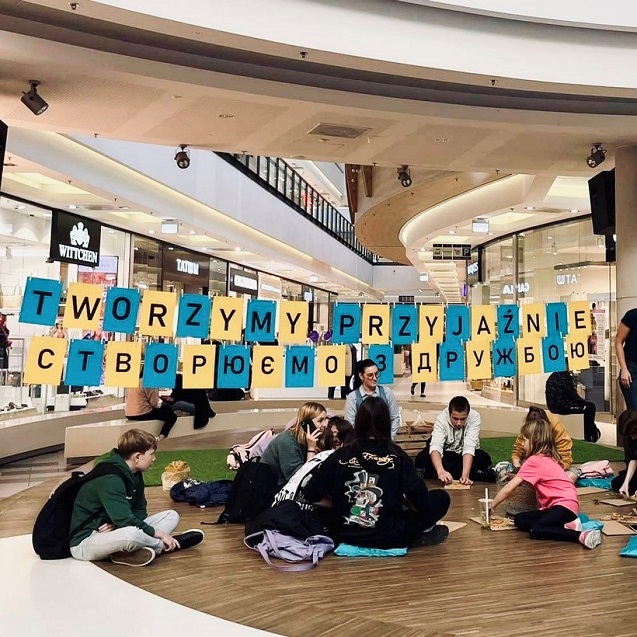 Throughout almost entire 2022, EPP carried out numerous activities to support people fleeing the war in Ukraine, and those who decided to stay in their country. The first wave of aid was directed to Zamość, where the our Galeria Twierdza shopping centre is located. The city, situated close to the Polish-Ukrainian border and important border crossing points, welcomed thousands of refugees in the first days of the war, hence the decision to concentrate aid activities here. Subsequently, in line with the strategy of supporting local communities, our teams in all properties owned or managed directly by the EPP, became involved in providing assistance. The activities were carried out in cooperation with local authorities, hospitals and non-profit organisations, with the support of tenants and teams of each asset, as well as employees of our offices in Warsaw and Kielce.
"By the end of February, 2022, nearly 350,000 refugees from Ukraine had crossed the Polish border, and today that number is more than 8.8 million. The choice of Zamość as the first place where we directed assistance, was natural. The city, located close to important border crossing points, was hosting many refugees and we were able to quickly help those most in need. Supporting efforts of the city authorities was crucial at that point, hence our activities, which included equipping reception and accommodation points, transporting refugees to other areas of Poland and purchasing medical supplies for friendly cities in Ukraine. In the Galeria Twierdza shopping centre we manage, we launched an information point for refugees with staff communicating in Ukrainian language. We also conducted collections of food and medical products there, which were systematically delivered to Ukraine in cooperation with local authorities and the hospital," explains Joanna Wyrostek, Director of Galeria Twierdza in Zamość.
The second branch of activities aimed in helping people from Ukraine included a number of local initiatives, undertaken by teams working in facilities owned or managed by EPP. This is a part of the strategy that we implemented in previous years, focused on supporting local communities that live in the neighbourhood of EPP's assets. At the company's 16 shopping centres, 6 office complexes and 2 offices, a number of initiatives have been carried out since the beginning of the war, intended to improve the living conditions of people arriving from Ukraine. In addition to activities such as financial and material collections, we organised cultural, educational and sport events or trips and camps for the youngest. Meals were also funded for Ukrainian children attending the kindergarten operating in the managed by EPP Warsaw office complex Park Rozwoju. An important part of our aid activities was aimed to support refugees in finding their way in the new situation – we provided or financed Polish language courses or IT-area courses, and those interested were assisted to find employment.
A community shop was set up in Galeria Tęcza shopping centre in Kalisz, where people from Ukraine can get products they need, such as food, hygiene articles and clothing, free of charge. And there was a reception point set in the O3 Business Campus complex in Kraków, dedicated for Ukrainian employees of one of its tenants.
"The commitment of teams from all EPP assets to help people from Ukraine is the result of the high sensitivity of our employees and their lack of agreement for human harm. In addition to supporting basic needs, such as securing a place to sleep, food, medication or medical care, we also took care of their mental comfort, especially for the youngest. We organised events for Ukrainian children, e.g. movie screenings, trips to the zoo or museums, integration activities conducted in two languages, and we funded psychological support and medical treatment. Many employees got even more involved and, as part of their employee volunteering programme, prepared meals for refugees, sorted collected products or supported the reception desks. We warmly thank them for their support," says Urszula Matej-Bil, EPP's PR and Communications Director.
Such extensive aid campaigns would not be possible without the involvement of relevant local institutions. Each time, current needs and the best way to respond to them were consulted with local authorities and public benefit organisations. Tenants of EPP's retail and office assets, and our partners were also keen to get involved in helping refugees from Ukraine.