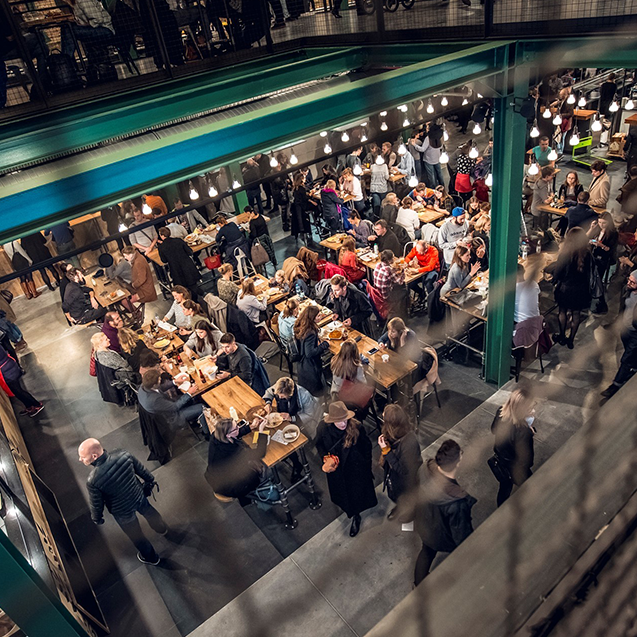 People have been coming together and socializing and bonding over food for as long as we have had kitchens. It's no secret that across the globe, retailers are realizing that food and beverage offerings are proving to be a huge draw for visitors and repeat customers. For this reason, it has been said that "food is the new fashion."
People have been coming together and socializing and bonding over food for as long as we have had kitchens. It's no secret that across the globe, retailers are realizing that food and beverage offerings are proving to be a huge draw for visitors and repeat customers. For this reason, it has been said that "food is the new fashion."
In Poland, we are actually ahead of the curve on this. In western Europe about 11% of GLA is devoted to food and beverage and entertainment, but in Poland that number is already at about 16 percent. There is good reason to take this sector of your retail offerings very seriously. A recent CBRE report found that 51% of people in Poland visit a shopping center simply to eat and drink. Once inside the mall, those people are more likely to spend money on other things as well.
Just as the kitchen is the heart of the home, the food hall is the heart of today's modern shopping mall. It is extremely important therefore, to get it right. Strong and attractive options for food and beverage can lead to more footfall, increased time spent in the shopping center, and often, increased sales.
There is a special art to getting a food hall right, because one has to develop something that is on trend without being trendy. This is where it is vitally important to form a team that is able to get the aesthetic correct.  Before joining the board of EPP, I directed the development of Hala Koszyki, a landmark food hall that opened in 2016 in Warsaw. Hala Koszyki embodies the perfect kind of design aesthetic with gastronomic choices broad enough to appeal to a diverse population. It represents the history of the building while being modern, hip, and elegant all at the same time, and is at the top of the Warsaw foodie scene.
At EPP, we are bringing this level of design aesthetic to our shopping centers. We are currently expanding the amount of GLA devoted to food, beverage and entertainment at our new centers to 25 percent. This is very different than our peers in the United States and the UK, but it is a strategy we are already seeing pay off.
The food and beverage sales at our Galaxy shopping center in Szczecin grew by 23 percent in 2018 versus the previous year, and at Pasaz Grunwaldzki in Wroclaw, food and beverage sales grew by 12% last year, despite the opening of a new center by a major competitor and the Sunday trading ban. In our Galeria Echo, in Kielce, F&B sales grew by 6 percent.
If You Build it, They Will Come
These great results have not been by accident. Our asset managers have worked very hard to ensure these properties have interesting food and entertainment offerings, and with Sundays being closed, we've made a real push to bring community events into our centers to engage customers and build loyalty.
We have just announced a major refurbishment of the food court at Pasaz Grundwaldski in Wroclaw. We've partnered with the architecture firm MIXD to create a nod to the history of the city, while creating spaces that are modern, hip and young. The design divides the gastronomic area into seven thematic zones which will accommodate 1000 guests, an increase of more than 30%.
The zones will be divided into a beach bar theme, a 90s urban area, a library complete with free book exchanges and a dedicated space to students, and arcade zone and a circus-style kids' play zone. Right next to the kids' area is a different zone for parents where they can observe their children with a cup of coffee in hand. The aim was to have a combination of vastly different atmospheres so there is a little something for everyone.
We are now moving on to the Galaxy shopping center in Szczecin. Next time you are in Poland and impressed by a food court, we're betting you will be at an EPP property.
Michał Świerczyński is a Board Member and Head of Asset Management for EPP, Poland's largest owner of shopping centers