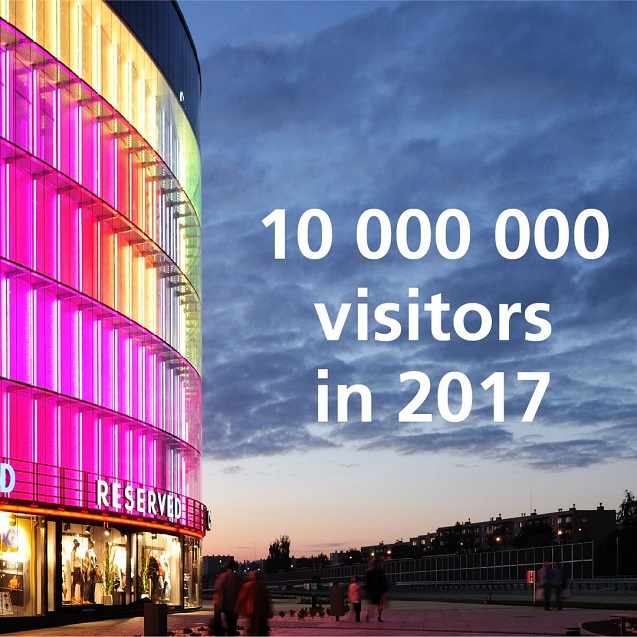 Last year was extremely successful for Kielce-based Galeria Echo. During this time, 10 million customers visited the shopping center, which translates into an average monthly footfall of over 800,000 visitors and proves once again its dominating position in the region. This also means growing revenue that after 11 months of 2017 rose by almost 9 percent.
– Considering that Kielce has about 200,000 inhabitants while the whole voivodship – 1.3 million, Galeria Echo's results are really impressive proving it's the leading shopping center in the region – says Jakub Ociepka, Asset Management at EPP – Undoubtedly, this is the result of a diversified offer and the consistent care for the tenants' business. Because the tenants who, by the carefully selected offer, build Galeria Echo's popularity, are our most important partner.
Galeria Echo in Kielce, owned by EPP, is one of the largest shopping and entertainment centers in Poland and the biggest investment of this type in the region. Its 71,600 sqm GLA hosts 250 stores, restaurants, cafes and services, including many well-known Polish and foreign brands.
Last year, the list of Galeria Echo's tenants was extended by first Outhorn store (4F group) as well as Martes Sport Junior from Martes Sport group. Other new stores included Green Point, Sun Lux luxury optician, Puma, beauty salon Semilac and men's clothing boutique Kubenz. At the same time, many existing tenants, like Martes Sport and Ochnik, extended their leased spaces and moved to new, more attractive locations. Galeria Echo's customers can also enjoy a rich gastronomic and entertainment offer as well as multi-level car park with 2,1000 spaces. This year, Galeria Echo plans to launch new facilities, including new multi-media stands and new, multi-media, free children's zone.