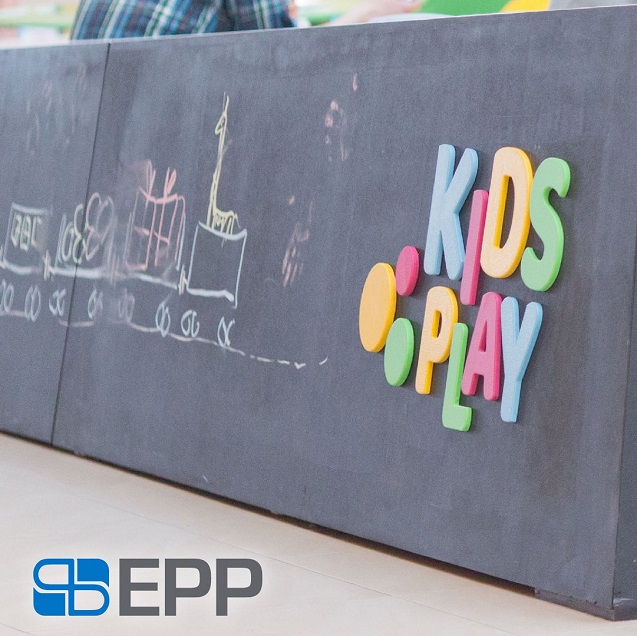 Galeria Echo, the largest shopping, and entertainment center in Katowice, has enlarged its offer by a unique place addressed at children between 4 and 12 years of age, EPP, Poland's leading owner and manager of shopping malls, announced. The youngest visitors can enjoy Kids Play – a playground and unique possibilities it offers, like getting familiar with English language, creativity development as well as learning interesting facts about outer space.
Today, shopping malls undergo dynamic changes. People visit them not only to do shopping but also to take care of some errands – like going to a post office or a town hall department. Contemporary shopping centers have also developed into entertainment spots. This is why they should contain a space dedicated to children, making their time at the mall attractive and creative.
– Our idea was quite simple: in Galeria Echo, we wanted to create a unique place for children that would combine entertainment and learning. We were interested in providing those kids, who together with their parents spend some time at the mall, could enjoy a modern, colorful and creativity-developing space as well as play various games that enhance their skills – says Grzegorz Czekaj, director at Galeria Echo.
Space dedicated to children
Kids Play is located in Galeria Echo's passage, at -1 level, next to Sowa confectionary. The space of about 100 sqm has been carefully designed and adjusted to the needs of children aged between 4 and 12 years. The room is lined with soft carpet and wooden walls. Abundant poufs and wall-decorations are of the same colors as the Kids Play logo, similar to round lamps.
"The place' goal is to serve kids and their children. That's why we decided to use bright colors that inspire children's imagination. We also used appropriate materials, like wood, and soft textiles. Individual elements of the Kids Play, furniture as well as touch screens have been adjusted to children possibilities to make them easy and attractive to use," adds Czekaj.
Applications and educational games
Kids Play means fun, creativity, and learning – all in a new way. The place's signature is a combination of manual games with modern educational applications. At the playground, children, while using a soft wall able to "remember" different shapes, will be able to develop their sense of touch, while walking so-called liquid floor – to discover the world of colors. By putting into motion more than ten spinners mounted to a "spinner wall," they can also learn how a gyroscope works. A globe and abacus – two attributes that arouse children's interest in the world and math – are an additional attraction of the place.
Four touch screens equipped with educational applications addressed at kids are another unique feature. Young users of Kids Play can enjoy many games that enhance memory, teach who to distinguish colors, stimulate logical thinking, introduce into the world of mathematical operations and develop reflexes. The set of games includes such applications as Magellan's Journey, Newton's Apple and Edison's Bulb. Each of them is of unique educational value and is based in the broader context, which helps children to associate Newton with the law of gravity, and Magellan – the journey of around the world. With other applications, children can also master their English, expand their knowledge about the world, as well as discover interesting facts about the Solar System.
Developing creativity
Besides, the stand hosts a digital drawing board. With a special stylus, children can develop their artistic inclinations while their drawings can, with the help of their parents, be saved and sent by e-mail. Kids Play is also equipped with a table with a horizontal touch screen containing other favorite games, such as Tetris, checkers, and puzzles.
– We are sure that the Kids Play project as a whole creates a unique space allowing our youngest visitors to spend time in a joyful and creative way – added Grzegorz Czekaj.