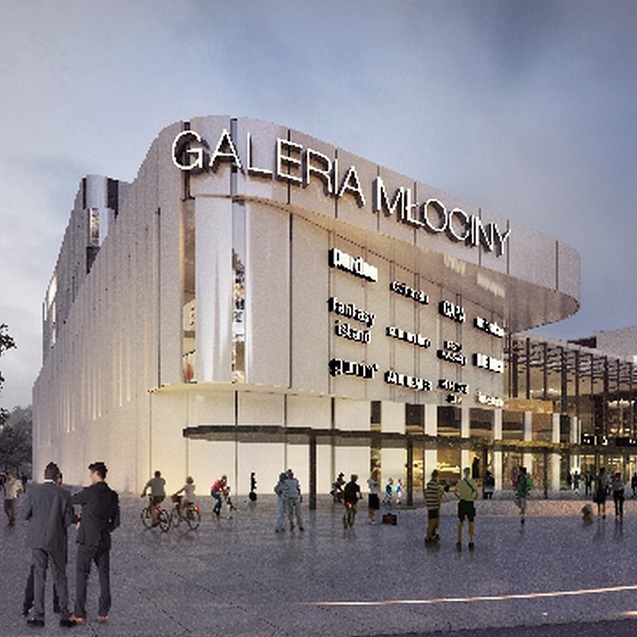 The construction of Galeria Młociny, the first modern retail and entertainment facility in Warsaw's Bielany district, is in progress. Popular brands reserve the best locations for their future shops. Tenants of the retail space in our new facility have just been joined by the MediaMarktSaturn Polska chain – the international leader on the market of functional electronics.
"Galeria Młociny is an interesting project which will perfectly complement the retail infrastructure in this part of the city. We can see a lot of potential in the presence of one of our shops in Galeria Młociny, which is likely to become a favourite place for shopping and spending free time among residents of Warsaw," says Marek Skoczylas, expansion director at MediaMarktSaturn Polska.
– Tenants are eager to choose Galeria Młociny because apart from a lot of assets related to its architecture and offer, the project also has a unique location. None of the current projects in Poland can boast the road layout that is grade-separated and does not generate traffic jams while proving direct access to the underground, tram lines, bus routes and even cycle paths. The Młociny hub is used by over 24 mln people per year. It is an unquestionable asset of this project – says Karolina Prędota-Krystek, senior leasing manager at Echo Investment's Shopping Centre Department.
MediaMarktSaturn Polska is the leading retailer offering functional electronics and related services. The group appointed itself as a partner, everyday companion and guide across the fascinating, although more and more complex, digital world. MediaMarktSaturn addresses the needs of various groups of customers offering a broad range of products and brands. In Poland the group currently includes 61 MediaMarkt shops, 21 Saturn shops and 3 Saturn Connect shops. Both brands implement the omnichannel sales development strategy, combining their market chains with online sales platforms.
Galeria Młociny is a new, mixed-use centre of Bielany. It will offer 220 favourite shops and service outlets, comfortable offices, a medical centre, playgrounds for children, a fitness club, restaurants and cafes, a trampoline park and the first multi-screen cinema in the district within a friendly and green area.
It is a project which is carried out by a joint venture of EPP (Echo Polska Properties) and Echo Investment. EPP is the owner of 70% of the project while the remaining part is held by Echo Investment, which is responsible for the commercialization of the project.
Galeria is being developed right next to the Młociny hub, which has one of the best transport links in Warsaw and provides access to the underground, numerous tram lines and bus routes, both suburban and all-Poland one, a bicycle station and a P&R car park. It is the most important transfer hub in the north part of the city, it services Warsaw satellite towns and it is used by over 24 mln passengers every year.
The group of future tenants includes leading fashion brands e.g. the Inditex group – Zara, Zara Home, Bershka, Pull & Bear, Stradivarius, Oysho, as well as Van Graaf, H&M, C&A, CCC, Wojas, Sephora, Douglas, The Body Shop and MAC. Galeria Młociny will also include popular shops of brands such as: Intermarche, Jysk, RTV Euro AGD, Go Sport, Martes Sport, SMYK as well as a modern multi-screen cinema and a Calypso fitness club.
Galeria Młociny was also designed as a convenient work place. Over 6,000 sqm of functional and comfortable office space with separate entrances, own reception area and convenient access to the car park has been planned in two separate buildings, on three floors. The opening is planned for March 2019.
www.galeriamlociny.pl