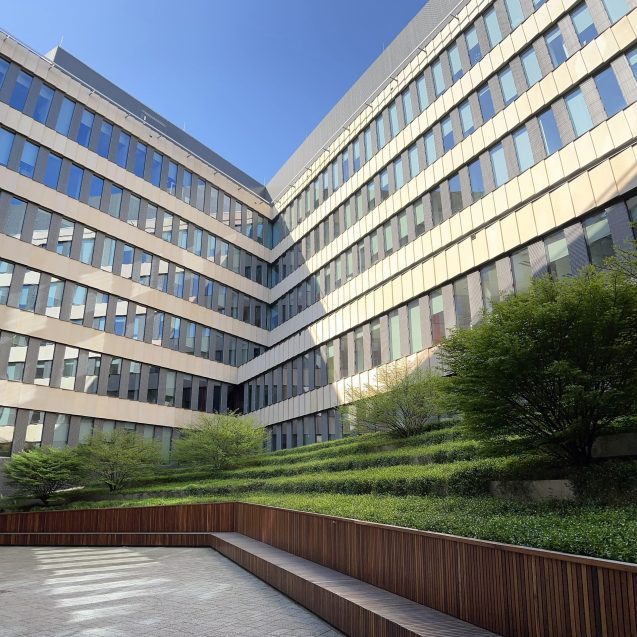 EPP-managed Park Rozwoju, the greenest office complex located in business district Mokotów, has signed contracts with four new tenants. Those are: ITS Poland, Kron, Real ST and Yangtze Optical Fibre and Cable Poland (YOFC). The total area of A-class office space covered by the agreements exceeds 1,000 sqm.
"A convenient location, modern architectural solutions, and the ability to tailor the space to our needs are just some of the advantages of the Park Rozwoju that influenced the decision to move ITS Poland's office there. Maintaining high standards in management, quality and safety at the facility is of great importance to us, as they directly translate into the comfort of our employees," said Tatsiana Karaneuskaya, Executive Director of ITS Poland.
"It is our priority to make tenants of the Park Rozwoju feel comfortable here. We know that they appreciate how efficiently we manage the building, including the initiatives we have taken to make the facility more energy efficient. They also value our individual approach to working with them and our willingness to respond to the needs of their businesses," commented Maciej Sałata, Senior Leasing Manager at EPP.
"Opening an office in Warsaw is an important step for the company and part of our long-term development strategy, which involves expanding YOFC's global reach and strengthening its presence in Europe. Park Rozwoju met our expectations in terms of the quality of office space and amenities offered. We wanted our employees to enjoy the best possible conditions in the new location, while at the same time meeting their needs related to comfortable commute or options for spending time away from their desks," emphasized Marcin Siciński, Manager of General Management Department, Yangtze Optical Fibre and Cable (Poland) Sp. z o.o.
"The location of the complex is exceptional and remains one of its key assets. The green surroundings allow you to breathe away from the hustle and bustle of the city, while at the same time offering good transportation, a wide range of service and gastronomic facilities. This is a place where business can thrive," added Olga Adamek, Senior Leasing Manager at EPP.
The new tenants of the Park Rozwoju are companies with various business profiles, both service and manufacturing. Among them is ITS Poland, a company providing IT solutions for business and public institutions, which occupied an office of over 400 sqm.
At the beginning of the year, Kron – a reputable manufacturer and distributor of office furniture, offering high-quality services for business – launched its showroom of over 300 sqm in the complex.
Another tenant is Real ST – an experienced and valued real estate agency, specializing in commercial real estate lease and purchase transactions.
In March this year, Yangtze Optical Fibre and Cable, a market leader in the production and sale of optical fibre and telecommunications wires, also moved its headquarters to business Mokotów.