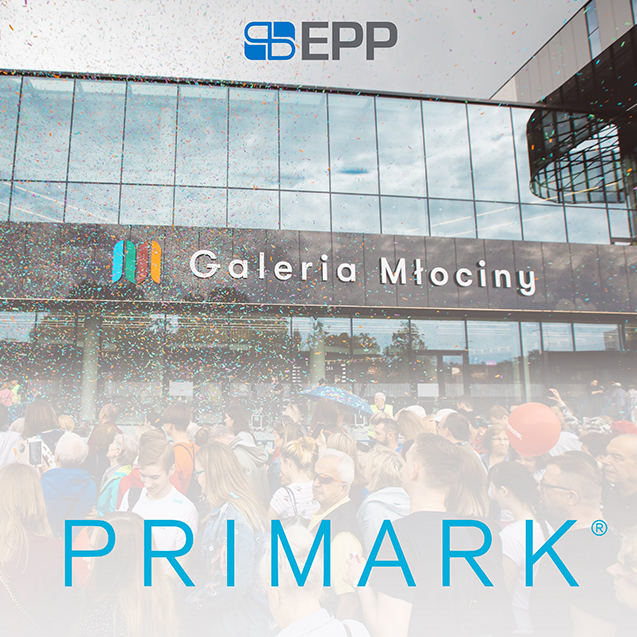 Primark, the international retailer that offers 'Amazing Fashion at Amazing Prices', today confirmed it will open its first store in Poland, in Warsaw, creating over 250 jobs. Primark has signed a lease to open a store in Galeria Młociny, in Warsaw's Bielany district.Galeria Młociny's owners are EPP (70% of shares) and Echo Investment (30%). EPP manages the newly opened retail scheme, while Echo Investment was responsible for the development and leasing.
Primark's new store will comprise of 3,660 square metres (39,400 square feet) of retail selling space over two floors and will feature the latest trends in women's, men's and children's fashions including footwear, accessories, as well as lingerie and homeware. Before an opening date is announced, Primark will work with Echo to tailor the leased space to fit Primark's specific needs.
Speaking about the new store, Tom Meager, Group Director of Property, Primark said, "Primark has been looking for a suitable location for the company's first store in Poland, and we're delighted to be opening in Warsaw's newest shopping centre."
"Primark's entry into Poland is excellent news for both the market and consumers. We are elated that this brand, known all over the world, has chosen Galeria Młociny for its first location in the country. Warsaw's most modern shopping centre, whose spectacular F&B and entertainment offering sees it follow the latest global trends, will gain a great new tenant whose presence will further strengthen its already impressive tenant mix. Primark's choice of Galeria Młociny as the location of its debut testifies to its position as a unique destination on the retail map of Poland", said Michał Świerczyński, member of the EPP management board responsible for asset management.
"We are looking to Primark's entrance to Poland from the perspective of Galeria Młociny success, but this is also undoubtedly massive news for the entire market, which has been seen to be acknowledged by a key international retail player. This début of the clothing giant sends a strong message to the whole world, that the Polish retail market still has enormous potential of accepting new brands, while on the other-hand, we have a top-class retail infrastructure, strategically located, correctly positioned and with high-traffic flow", said Marcin Materny, member of the board responsible for retail sector at Echo Investment.
Galeria Młociny, which opened this May, gives Warsaw residents access to more than 240 stores with a mix of quality brands that appeal to every budget alongside one of the city's most ambitious food and beverage projects.The Polish capital city's hottest destination features nearly 85,000 sqm of modern, well-designed space, including 5,000 sqm of office space and more than 6,000 sqm of restaurant and entertainment options.
From September, Primark will be recruiting for over 250 jobs. A range of opportunities will be available within the store including store management, retail assistants and supervisors for sales floor, stockroom and cash office, as well as visual merchandising roles. To find out more and sign up for job alerts visit https://careers.primark.com/ .
Last month saw Primark open its first store in Central Eastern Europe in Ljubljana, Slovenia, and the company has also announced plans to open in the Czech Republic.