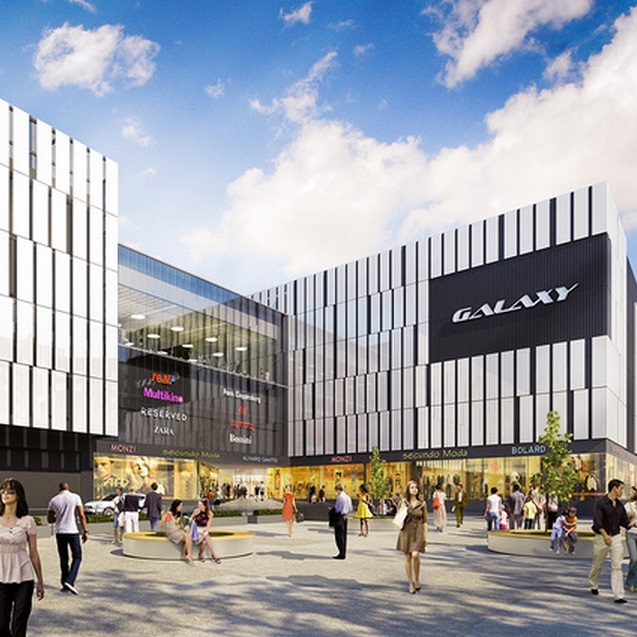 Expansion of Galaxy shopping center that started in June is gaining momentum. At the moment, the rental at the new part is at 70%, and by the end of the year new leases will be signed. The total area of the center after the expansion will amount to almost 57.500 m² GLA.
The opening of the new part is to take place in the fourth quarter of 2017. Thanks to the expansion, Galaxy will become one of the biggest retail properties in the city and the whole region as well as one of the largest and the most modern shopping centers in Poland. So far, lease agreements have been signed with such well-known brands as: Reserved 2,614 m², CCC 2,266 m², Fabryka Formy 1,576 m², Go Sport 1,150 m², Smyk 752 m², Deichmann 675 m², Rossmann 563 m² and House 480 m². At the moment, the attendance at Galaxy has reached 10.7 million customers per year making it an unquestionable leader and leaving behind Szczecin's other shopping centers.
– This year Galaxy turned 13 years old. Our object is one of the most popular in the city. Szczecin dwellers appreciate our offer which translates into so called footfall indicator and our tenants' revenue. However, customers' expectations regarding shopping centers continue to rise. They are looking not only for a shopping place with a wide variety of goods, but also for a place where they could spend their free time, entertain and relax. This is why we decided to expand. We want to meet these needs and to strengthen our position as the commercial leader both among the citizens and potential tenants. I'm glad to see well-known, popular brands joining us. People of Szczecin are waiting for them – says Michał Świerczyński, Board Member from Echo Polska Properties, an owner of the center.
Galaxy shopping center was opened on Oct. 1st, 2003. Visitors of the four-story building can enjoy an array of stores, boutiques, service points as well as a rich gastronomy offer. A modern, multi-screen movie theater, a bowling alley with 14 lanes, pool and simulation games arcade "Game Town" as well as playgrounds add to the attractiveness of the place. Perfectly located Galaxy has numerous transportation links with all parts of Szczecin and is easy to reach.