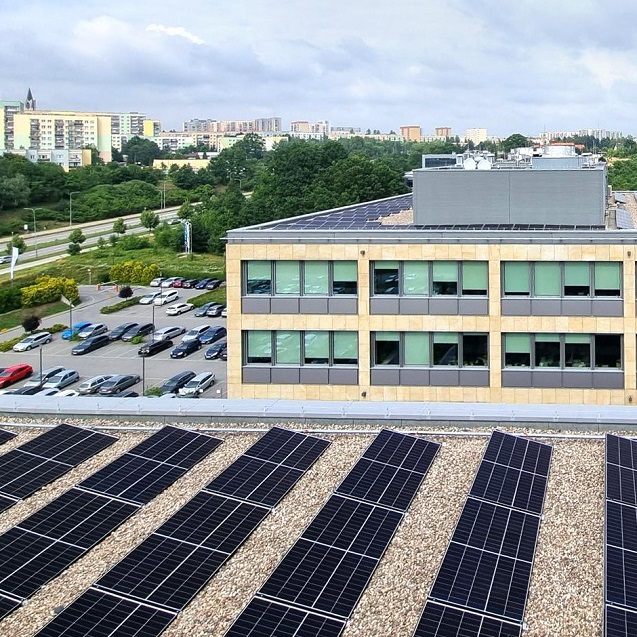 EPP's near- and long-term science-based targets have been validated by the Science Based Targets initiative (SBTi). By 2050, the largest asset manager of retail real estate located in Poland commits to achieve net-zero greenhouse gas (GHG) emissions across scopes 1, 2 and 3. Commitment to the initiative is another step taken by EPP as part of its implemented ESG strategy, and proof that the company's targets are not only ambitious, but also realistic to achieve.
The Science Based Targets initiative (SBTi) is a global body enabling businesses to set ambitious emissions reductions targets in line with the latest climate science. It is focused on accelerating companies across the world to halve emissions before 2030 and achieve net-zero emissions before 2050.
According to the International Energy Agency[1] , the operation of buildings is responsible for 26% of global emissions from energy consumption (8% of which are direct emissions from buildings and 18% are indirect emissions related to the production of the electricity and heat used in them). The decarbonisation of the real estate sector is therefore crucial to global action aimed at fighting climate change, and EPP wants to actively participate in this process.
With setting science-based targets through the SBTi, the EPP group made a commitment to reduce absolute scope 1 and 2 GHG emissions by 50% and absolute scope 3 GHG emissions from fuel and energy-related activities and downstream leased assets by 30% by 2030 compared to 2019. By 2050 the group committed to reach 90% of the absolute reduction in all three scopes compared to the base year. At the same time EPP group committed to reach net-zero GHG emissions across the value chain by 2050. Those near- and long-term science-based targets were reviewed and validated by the SBTi.
– Fully aware of the real estate sector's impact on the environment and climate, we have set ourselves specific targets and actions. The decision to join the SBTi and review our decarbonisation targets is an act of corporate responsibility and an expression of our willingness to take ambitious action. We plan to significantly reduce our GHG emissions in the coming years. This will be achieved by, among other things, reducing energy consumption and purchasing energy from alternative sources. By 2030, the share of green energy for scope 1 and 2 used in the assets we manage is expected to be as high as 60% – commented Tomasz Trzósło, CEO EPP N.V.
The ESG policy implemented by EPP is an integral part of the company's business strategy and is based on responsibility towards the planet and people. Joining the SBTi is a further step in the company's increased focus on tackling global climate change.
The SBTi is a collaboration between CDP, the United Nations Global Compact, World Resources Institute (WRI) and the World Wide Fund for Nature (WWF) and one of the We Mean Business Coalition commitments. At the end of 2022, over 4,000 companies from around the world, including the best-known brands from all sectors, were involved in the initiative. The SBTi defines and promotes best practice in science-based target setting, offers resources and guidance to reduce barriers to adoption, and independently assesses and approves companies' targets. On average, between 2015 and 2020, companies with approved targets reduced combined scope 1 and 2 emissions by 29%.